Zee, Endemol Shine partner on "The Boy with the Topknot" telemovie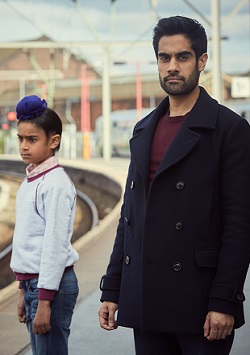 Zee Entertainment Enterprises has picked up rights to Endemol Shine's telemovie based on Sathnam Sanghera's memoir, "The Boy with the Topknot". The agreement, announced out of London this evening, gives Zee rights to India, Bangladesh, Bhutan, Nepal, Pakistan, Sri Lanka and the Maldives. The movie premieres on Zee's new premium channel, &Privé HD, in the next few months.
Born to Punjabi parents in the U.K.'s West Midlands, Sathnam's memoirs are an account of his childhood and growing up to face a bunch of painful family secrets and truths in his 20s – not least that his father and sister had suffered from schizophrenia – and that he was going to defy expectations of an arranged marriage.
"The Boy with the Topknot" stars Sacha Dhawan (Sherlock, Iron Fist) in the title role as Sathnam Sanghera, Joanna Vanderham (The Go-Between, Man in an Orange Shirt) plays his girlfriend Laura. Anupam Kher (Bend It Like Beckham, Silver Linings Playbook, The Big Sick) and Deepti Naval (Lion) star as Sathnam's parents, with Kiran Sonia Sawar(Murdered By My Father) and Sam Otto (The State) as their younger selves.
"The Boy with the Topknot" is produced by Kudos and Parti Productions for BBC Two and distributed internationally by Endemol Shine International.
The executive producers are Diederick Santer and Manda Levin for Kudos, Christopher Aird for the BBC and Nisha Parti for Parti Productions. It was adapted by Mick Ford and directed by Lynsey Miller.