Feature
Asia pay-TV's annus horribilis
APRIL 2019: Good news for pay-TV operators in Asia was slim in 2018, and things don't look like they're getting better anytime soon. Outside of India that is, Media Partners Asia (MPA) said on the eve of this year's Asia Pacific Video Operators Summit (APOS), which opens in Bali on 23 April.
2018 was a terrible year for pay-TV operators in Asia Pacific, and pay-TV consolidation is expected to continue, according to analysts Media Partners Asia (MPA) research released on the eve of this year's Asia Pacific Video Operators Summit (APOS) in Bali on 23 April.
Except for India, which "stands alone as the last major buffer against secular weakness in pay-TV in Asia," MPA says. Even then, regulators are threatening growth in the near term with new regulations that threaten pay-TV subscription and advertising growth.
Outside of India, pay-TV channel operators in Asia Pacific looked at "severe deterioration" in earnings and profits across the region for 2018, MPA says in its latest update to its Pay-TV Networks Channel Database.
Aggregate revenues across 13 major pay-TV networks grew by 1% in 2018 to reach US$4.9 billion, compared to 5% growth in 2017. Combined ebitda fell by 5% in 2018 to US$0.9 billion; and by 8% to US$0.5 billion if Star India and Sony India are excluded.
Across the 13 groups covered, India accounted for 62% of pay channel revenues in 2018. This was led by Star India (now owned by Disney) and Sony India. Excluding revenues from Star and Sony India, Southeast Asia leads, contributing 32% of revenue in 2018, driven by Disney (including Fox), WarnerMedia and beIN. India would then contribute 18%, led by Disney, Discovery and WarnerMedia, followed by Japan with 16%, led by Disney, Discovery, WarnerMedia and Viacom. Hong Kong/Taiwan & Australia/NZ contribute 10% each in this scenario.
The biggest channel networks ex India in Asia including Australia and Japan in terms of revenue in 2018 were Fox Networks Group, Disney, Discovery, Turner, beIN and HBO.
Factual and lifestyle pay-TV channels had the biggest share of revenue by genre in 2018 (excluding large local networks in India) with 21% in 2018, followed by kids, also with 21%. English-language general entertainment channels had a share of 17% in 2018, which was a "material" decline from 19% in 2017, MPA said.
News took 3% and music (2%).
Three genre categories increased their share: Sports, with a share of 15% share (up from 14% in 2017); English-language movies, which increased from 11% in 2017 to 12% in 2018; and Asian entertainment, which rose to 9% from 8% in 2017.
"Consumer demand for traditional pay-TV has been impacted forever by high-speed broadband, which is driving rapid increases in online video consumption as well as piracy," said MPA executive director, Vivek Couto. "These trends have intensified downward pressure across Asia's pay-TV ecosystem, especially in Southeast Asia, led by Singapore and Malaysia, alongside secular shifts in Australia and New Zealand. This will accelerate consolidation as well as major shifts in how channels and content are marketed and sold."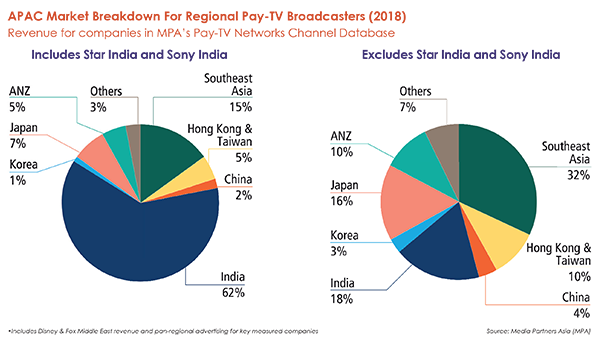 Published in April 2019 in ContentAsia print+online magazine for APOS 2019