DW Transtel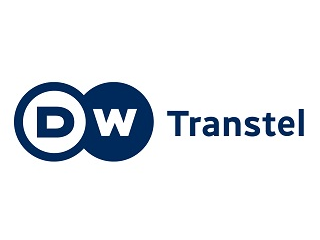 Deutsche Welle (DW) is Germany's international broadcaster and a trusted source for reliable news and information with content in 30 languages. The flagship channel DW provides analysis and insights to viewers around the globe, reporting on important issues in English 24/7. With continuous news reports, special features and talk shows covering everything from business, science and politics to culture and sports, DW brings people closer to what matters most – made in Germany, made for minds.
Address
DW Transtel
Kurt–Schumacher–Str. 3
53113 Bonn, Germany
T: +49 228 429 0
F: +49 228 429 3500
E: sales@dw.com
W: www.dw-transtel.com
Asia office: PIK film
30 Lorong Bukit Pantai
Lucky Garden, Bangsar,
59100 Kuala Lumpur, Malaysia
T: +60 3 2093 0866
F: +60 3 2093 8688
E: meefung.lee@pikfilm.com.my
Who's who...
Petra Schneider
Director of Sales & Distribution
T: +49 228 429 3501
E: petra-c.schneider@dw.com
Mee Fung Lee
Asia Representative
T: +60 3 2093 0866
E: meefung.lee@pikfilm.com.my
Genres
"With approximately 150 documentaries offered each year, DW Transtel focuses on international television. We provide quality documentaries that cover an exhaustive list of topics including, politics, business, globalisation, science, medicine, the environment, travel, culture and sports."
Production
"Cooperating and regionalising our content is key to making sure that Documentaries from DW Transtel can be adapted by partners for local audiences and for specific aims. For example, an educational video-on-demand supplier for universities across China recently acquired over 100 hours of content from DW Transtel, added Mandarin subtitles, making them available for millions of students."
Rights
"DW Transtel holds the worldwide distribution rights to most of the documentaries in the catalogue and we work to ensure they are also available both on-demand and on mobile devices."
HD/4K
The majority of the videos in DW Transtel's documentary catalogue are available in HD and many new titles will be available in 4K.
Trends & Outlook
"With so many different platforms and access points for video content, a big challenge for all content producers will be creating a seamless viewing experience. Regardless of mobile, online or terrestrial television, we want to ensure that all of our viewers can enjoy the best quality content available." Petra Schneider, Director of Sales & Distribution
Asia focus in 2018
"We want our documentaries to reach as many people in Asia as possible because the diversity of content provided on DW Transtel means that we can add value to the media landscape wherever we distribute. We are currently working on increasing partnerships and coproduction agreements in markets like Indonesia, India and China."
Top shows are...
Euromaxx
Experience the richness and variety of Europe. Fascinating colorful reports bring alive the new Europe. Europe is always on the move. A source of new ideas and a motor for change. But Europe's traditions are also flourishing and being updated for life in the 21st Century. Europe's values of tolerance and its diversity make it an exciting mix of cultures and temperaments. Arts and entertainment, fashion and glamour, design and architecture. Europe is all this and much more. And so is Euromaxx. Length: 30 mins; 3-5 mins clips
Islamic Garden Design
Islamic gardens have been places of rest, relaxation and luxury for centuries. The search for perfection – Islamic Garden Design – explores some of the world's most magnificent and incomparable Islamic gardens. Starting with the origins of the design in Persian palaces, five documentaries take you from India to Morocco and Andalusia along the trail of Islamic history. Length: 30 mins
Farming for the Planet
This series unearths ideas and inspiration for sustainable agriculture and explores corporate and technological issues affecting food production worldwide. We take an original perspective on sustainable agriculture that makes a contribution to this complex and important issue. Length: 30 mins