Bomanbridge Media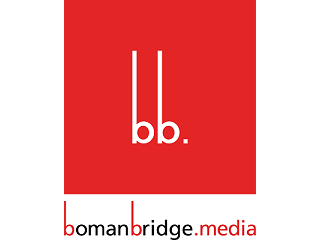 A leading Singapore-based distribution agency and production company, Bomanbridge Media exclusively distributes renowned programming from around the world. The company's team has earned a stellar reputation in the region as the go-to company for profitable programming results. Its diverse catalogue currently holds over 6,000 hours of top quality programming, consisting of Formats, Lifestyle, Specialist Factual, Factual Entertainment, Drama, Kids and Educational content. Offering brand strategy, programme distribution and Format development, Bomanbridge is an effective programming partner.
Address
8 Smith Street #02-01
Singapore 058922
T: +65 6224 4211
W: www.bomanbridge.tv
Who's who...
Sonia Fleck
Founder & CEO
E: sonia@bomanbridge.tv
Aegena Tay
Director of Sales and Acquisitions, Greater China
E: aegena@bomanbridge.tv
Gleyce Soares
Senior Sales Manager, Southeast Asia
E: gleyce@bomanbridge.tv
Josephine Lim
Content and Marketing Liaison
E: josephine@bomanbridge.tv
Genres
Formats, Lifestyle, Specialist Factual, Factual Entertainment, Drama, Kids and Educational content
Rights
Generally all Asian rights and/or worldwide rights, depending on titles. Please contact our Distribution Directors for further information.
HD/4K
100% HD as well as a large percentage in 4K
Asia focus in 2018
"As always, we have an Asian specialised focus in every market within the APAC region. This means each territory, in consideration of expectations on growth trajectory, is important to us. In particular, our business in India over the last six months has seen a significant jump, much of which has been along the lines of Kids, Formats and Entertainment content."
Top shows are...
Gamerz
12 talents will move into the GAMERZ House where they will, with professional help, be drilled to maximize their abilities. These talents are tested and challenged daily in live broadcasts of matches and interactive challenges. Anything can happen, and no one is safe on their way towards the final objective where five lucky winners will be awarded a six-month professional gaming contract!
The Fashion Hero
In a series of eight episodes, this brand-new entertainment format will not only find the international fashion models of tomorrow. It will revolutionise the fashion industry in the process! The Fashion Hero is spearheading a global movement to celebrate diversity and to overturn the perception of beauty. It's a modelling talent show, but it's not about the looks; We want the models to be role-models for a new generation. The talents we're looking for are charisma, personality and character!
Snack World
Welcome to Snack World, the hyper, casual, fantasy universe with princesses, dragons, genies, smartphones, and convenience stores! Explore this strange but super fun world with our hero Chup and his comedic companions. Embarking on adventures with many twists and turns, our mismatched crew use weapons called "Jara" and recruit monsters to turn them into "Snacks" to defeat evil!