PUBLICATIONS
The ContentAsia magazine
The latest issue of our flagship print title.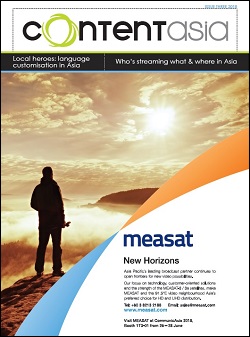 Issue Three 2018 includes:
Localisation: Local heroes
OTT/streaming platforms have sent demand for localisation services soaring across markets and genres. While they're obviously not complaining, providers say their challenges include maintaining quality at the same time as experimenting with new technologies such as cloud-based workflows and artificial intelligence. ContentAsia asked dubbing/subtitling experts about trends and influences, as well as demand in Asia and abroad.
Streaming: OTT spots
With all the unanswered questions about monetisation and models, Asia's shift to streaming/OTT services continues unabated. Malena Amzah lists who's doing what where
Data: OTT in numbers
ContentAsia's latest streaming/OTT listing counts a total of 224 regional and homegrown/local platforms, of which 95 are regional/global services, across 17 markets in Asia.

Previous issues: