PUBLICATIONS
The ContentAsia eNewsletter
The latest issue of our fortnightly newsletter.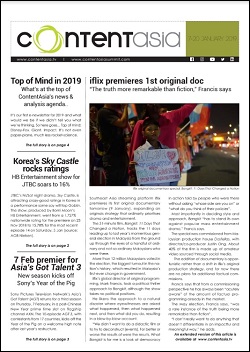 7-20 January 2019 issue includes:
iflix premieres 1st original doc; "The truth is more remarkable than fiction," production boss Francis says
Southeast Asia streaming platform iflix premieres its first original documentary tomorrow (9 January), expanding an originals strategy that ordinarily prioritises drama and entertainment. The 51-minute political thriller-type special, Bangkit: 11 Days That Changed a Nation, tracks the 11 days leading up to last year's momentous general election in Malaysia from the ground up through the eyes of ordinary and not-so-ordinary Malaysians who were there.
ContentAsia's 2019 Top-of-Mind List: Disney. Fox. Fallout. Original production. Streaming. DTC.
It's our first eNewsletter for 2019 and what would we be if we didn't tell you what we're thinking. So here goes… Top of mind: Disney-Fox. Giant. Impact. It's not even paper-plane, much less rocket-science. But it's all we can say for sure.
7 Feb premier for Asia's Got Talent 3; new season kicks off Sony's Year of the Pig
Sony Pictures Television Network's Asia's Got Talent (AGT) returns for a third season on Thursday, 7 February, in a post-Chinese New Year prime time slot on flagship channel AXN.
PLUS MORE...

Previous issues: