PUBLICATIONS
The ContentAsia eNewsletter
The latest issue of our fortnightly newsletter.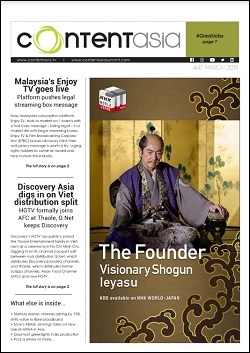 4-17 March 2019 issue includes:
Discovery digs in on Viet distribution split; HGTV/AFC at Thaole, Q.Net keeps Discovery
Discovery's HGTV publicly joined the Thaole Entertainment family in Vietnam at a ceremony in Ho Chi Minh City this month, digging in on its channel bouquet split between rival distributors Q.Net, which distributes Discovery-branded channels, and Thaole, which distributes former Scripps channels, Asian Food Channel (AFC) and now HGTV.


Viu rolls out in South Africa, freemium app goes live with SABC, eTV and Vodacom
PCCW Media's Viu streaming platform has landed in Africa for the first time, debuting in South Africa with a multi-level pricing structure and exclusive deals with the country's top broadcasters. Viu's debut lineup pulls premium local titles – Uzalo and SkeenSaam – off YouTube as part of its digital rights licensing deals with the state-backed South African Broadcasting Corporation (SABC).

Fantasy/sci-fi tops Taiwan demand; wide genre mix in top 10 show list
HBO's Game of Thrones (GoT) topped Taiwanese demand in the last week of February, beating back zombie drama The Walking Dead and the much newer Korean blockbuster, Studio Dragon's US$22-million fantasy thriller, Memories of the Alhambra. With a little more than a month to go until the premiere of the final season, GoT was the only show that broke through the one million demand expressions mark, according to data science company Parrot Analytics.

PLUS MORE...

Previous issues: