PUBLICATIONS
The ContentAsia eNewsletter
The latest issue of our fortnightly newsletter.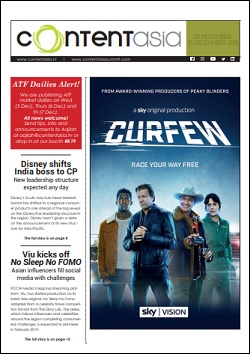 28 Nov-10 Dec 2018 issue includes:
Viu kicks off "No Sleep No Fomo"; Asian celebs, influencers take on 60-hour format challenge
PCCW Media's regional streaming platform, Viu, has kicked off its latest Asia original, No Sleep No Fomo, adapted from a celebrity travel challenge format from The Story Lab. The series is scheduled to be released in February 2019.
Factual tops Asia demand; 61% of searches include factual
The hunt for factual content among Asian buyers is dwarfing everything else, including drama and kids, according to new data from global rights e-commerce platform TRX.
PLUS MORE...

Previous issues: