Animax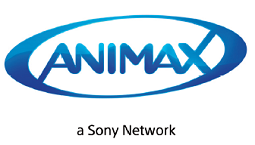 Animax is Asia's leading destination for Japanese anime and offers a wide variety of programmes from popular genres such as action, romance, horror, supernatural, sci-fi, comedy and slice-of-life. Home to some of the biggest anime titles, which are simulcast with Japan, Animax entertains hardcore fans in 34 million homes across 15 territories in Asia. Hit series include My Hero Academia, Assassination Classroom, Fairy Tail, One Punch Man, The Seven Deadly Sins and Mob Psycho 100. In Malay- sia, Animax is also available on Astro's SVOD service. Beyond the screen, Animax actively engages its audiences at local events, including its signature Animax Car- nival that has rolled out in Malaysia, the Philippines and Taiwan. Animax has also introduced its own official characters known as "OO-Kun & Friends", comprising four characters – OO-Kun, Miruku, Chu Chu and Imo – who have entertained and delighted fans through animated video clips on their adventures in the world of anime as well as appearances in real life at on-ground channel activations.
Owned by / Company
Sony Pictures Television (SPT) Networks, Asia is a leading operator of ad-supported channels including English general entertainment powerhouses AXN and Sony Channel; and Asian content giants Animax, GEM and ONE. SPT Networks' portfolio collectively features the biggest and best titles from Northeast Asia and the U.S. that are first-run, exclusive and aired close to the original telecast. Taking the content beyond the screen, SPT Networks, Asia immerses viewers in its premium entertainment via large-scale festivals, celebrity fan meets and digital engagement. In Asia, SPT Networks' portfolio is available across 20 territories and in over 45 million homes.
Local Production
SPT Networks, Asia is a leader in pan-regional origi- nal entertainment productions, including the winner of multiple 2017 Asian TV Awards (for Best General Entertainment Programme, Best Reality Show and Best Adaptation of an Existing Format). The Amazing Race Asia Season 5, the top-rated series Asia's Got Talent Season 2 with judges David Foster, Anggun and Jay Park, the upcoming magic series starring world famous illusionist and escapologist Cosentino in The Elements: Cosentino, and the world's biggest design competition show, The Apartment: Rising Stars Edition.
Advertising/sponsorship
SPT Networks, Asia is a one-stop destination that enables advertisers to tap into the power of Sony's premium entertainment, regional reach and unparalleled influence for a creative 360 media solution. Seamless brand integration in original productions together with digital content extensions remain a key draw for sponsors in the local and pan-regional markets.
The single most important influence on Asia's TV industry in the next 12 months will be...
Creating and curating relevant and meaningful content in our diversified markets remains key. This together with digital content that truly resonates with viewers will ensure maximum engagement and brand loyalty."
Virginia Lim, Senior Vice President and General Manager , Sony Pictures Television Networks, Asia
Address
Sony Pictures Television Networks, Asia
#03-01 Hansapoint @ CBP,
10 Changi Business Park Central 2,
Singapore 486030
T: +65 6622 8722
W: www.SonyPicturesTelevision.com
www.AXN-Asia.com
www.SonyChannelAsia.com
www.ONEtvAsia.com
www.GEMtvAsia.com
www.animax-asia.com